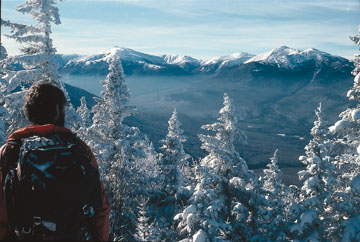 Introduction
This book was written for beginners and others who want to know what makes the difference between safety and disaster in the mountains. Chapter 1 contains the key to staying alive. It should help you understand how decisions are made and that your decisions are so important. Chapter 2 contains a discussion of leadership. Also in this chapter you will find a section that lists the responsibilities of the follower. Chapter 3 deals with the practical aspects of leading a hike, even if you are alone. The remainder of the book provides enumeration of the hazards found in the mountains along with remedies and helpful suggestions. This is information needed by all hikers.
Loafing along above timberline on a warm, clear, sunny day is an incomparable experience. However, the weather changes, people tire, and sometimes they stick too rigidly to their original trip plans. All too late they discover that a hazard is facing them. As either a leader or a follower, you need to be aware of the life threatening situations and how to deal with them by making safe decisions.
Though there are many decisions for the mountain hiker to make, those which you must continuously address, with a view both to the present conditions and those in the foreseeable future, are:
Do we have and are we employing the right clothing and equipment?
Do we have enough energy and skill?
Are we eating and drinking enough to match our rates of energy output and liquid loss?
Should we modify our objectives in view of the time, the weather and the pace?
This book addresses what you should know to make the necessary decisions. The choices might depend on many factors.
While most beginners hike in the summer, the extremes of weather above tree line reveal little distinction between seasons in terms of danger. Much about winter hiking can apply to extreme summer conditions. I do not intend to encourage beginners to do winter hiking, but I have said a lot about it because disasters occur in the winter as well as in the summer. Neither the beginner nor the expert will find much technique instruction here. On the other hand, there is much information here you will not find elsewhere, particularly regarding the cognitive aspect of travel away from roads and immediate rescue.
Enjoy the song of the winter wren, the delicate flower of the wood sorrel, and the matchless splendor of a clear day on a high summit. Do it with confidence. Replace your uncertainty with knowledge, skill and experience, and use that as the basis for making good decisions.
Copyright © 1998 by Dan H. Allen
All rights are reserved, including the right of reproduction in whole or in part in any form.